External Affairs, Internal Battles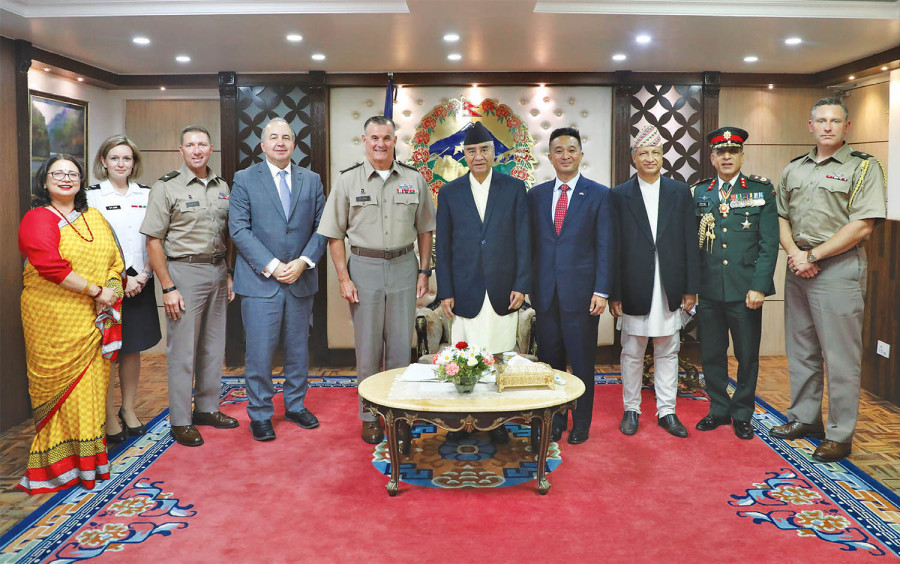 Parliament is once again in turmoil over what our politicians think they understand rather than what appears to be. The media cacophony over the US government's State Partnership Program (SPP) has fueled discourse inside and outside Parliament, and is eerily similar to the outcry over the Millennium Challenge Corporation (MCC) deal. . And again, there is a real danger for mainstream journalism to lose the agenda to social media clickbait.
The US government website explains that the SPP is a multi-faceted military exchange where partner nations can benefit from combat and non-combat technical capabilities, including disaster preparedness, response, technology transfer, support logistics, intelligence sharing and issues of common interest such as cyber-crime and terrorism. According to the documents published in the media and the statement of the current head of the Nepalese army, Nepal had expressed its interest in the partnership as early as 2015. For a country regularly hit by disasters, the Nepalese side was understandably convinced that she would benefit from some of those technical skills, technologies, and non-combat resources. The lack of capacity in our state following the 2015 earthquake that caused widespread destruction and panic has already established a strong rationale for better disaster preparedness and response.
Count the fees
Our concern must be whether or not previous governments complied with institutional processes while engaging in something as sensitive as a military exchange program. Ideally, this would include the senior ranks of the Nepalese Army and the Ministry of Defense holding extensive consultations with the Ministry of Foreign Affairs and the Prime Minister's Office. They would seek input from relevant stakeholders, including the parliamentary committee and external experts. Once this exercise is complete, the prime minister and defense minister should feel confident to make a decision, assuming there is also a strong case for parliamentary support. Therefore, the all-party parliamentary committee is a crucial legislative cushion, which the executive must always feel empowered to use. If those in power circumvent institutions and processes, it will only weaken their legal and moral capacity to defend their decisions. But if the procedures have not been followed, the Nepalese army and today's heads of government must own it, and the opposition should not politicize it just because they stand on the sidelines. other side of the aisle.
Having witnessed the MCC saga, it is unconvincing whether the question regarding the PSP is whether or not institutions or processes have been circumvented. I understand that public mistrust stems more from a collective lack of trust in our institutions and processes. And for that, every senior leader at the helm and in decision-making positions in government must assume their share of responsibility. They all presided over undermining the system and eroding public trust in institutions and processes. As a result, our governance and policy-making are regularly held hostage to domestic political wrangling. It is gradually shaking public confidence in the system, not to mention that Nepal's international credibility has also taken a hit.
Restore trust
Nepal undoubtedly faces difficult foreign policy choices given its geopolitical situation. And how we manage the competing interests of powerful countries while meeting national needs and maintaining our strategic values ​​is a constant challenge that will become more delicate in the years to come. But whichever way we choose to tackle it, for a country like Nepal, the unknown costs of disengaging with a superpower will present far greater risks than those that come with informed and calculated engagement. This is the mantra that our foreign policy experts and our foreign ministry diplomats would be well aware of. This would also be the case of the Nepalese army, mainly responsible for external security and safeguarding our strategic interests. But what about the social media pundits and self-proclaimed pundits who seem to be fueling the political wrangling over the PSP?
Fortunately, they don't make the decisions for us. And those who do must first choose to trust the institutions and processes that have been established. There is enough expertise within the Nepal Army, Ministry of Defense and Ministry of Foreign Affairs, and they are all available to Prime Minister Deuba and the Parliamentary Foreign Affairs Committee. They can also contact national experts in foreign policy and strategic affairs if necessary. But the government and the opposition must treat external affairs issues with the sensitivity they deserve and not use them to score internal political brownies. Enough damage has already been done to Nepal's international stature by the immature and misinformed rhetoric of the MCC.
Given the upcoming federal and provincial elections, the ruling coalition will want the SPP debate to be settled quickly, as evidenced by Foreign Minister Narayan Khadka's recent statement. But if there is one takeaway from all of this, it is this: we urgently need a broader national consensus on Nepal's foreign policy and our key priorities to which all parties have committed. In addition, periodic orientation of parliamentarians on international relations and the evolution of Nepal's strategic interests and geopolitical choices will enable them to ask the right questions instead of being carried away by the noise of social media. This will go a long way to restoring public confidence in the system.